Advantage (Adv): Please briefly describe your background and how you entered the futures industry.
John Lothian (JL): I started as a 17 year-old driving a soybean pit trader and broker from Wisconsin to Chicago every day in the summer. Tom Cashman has been a mentor to me since. Working for Tom, I fell in love with the markets, journalism and how the markets consumed information. I went on to earn degrees in journalism and finance from Purdue University. My first job was a reporter with Knight Ridder's Commodity News Service. I figured one way to learn the markets was to ask people questions as a journalist, so that is what I did.
Adv: Can you share the evolution of your firm from the first newsletter to today?
JL: Prior to 2000, I did a lot of trading and markets related writing on various trader web sites and email lists. I wanted to know my audience better, so I tried a viral marketing experiment and created a daily newsletter aggregating all the news I could find on the internet. The viral experiment worked and it greatly helped my brokerage and CTA business—until it did not. More people saw me as a journalist than as a broker. In 2003, I incorporated and started charging for my newsletter with a voluntary pay model. My brokerage business declined, but my media business grew rapidly. From John Lothian Newsletter's success and my imagination, as well as the talent and hard work of people I hired, we grew JLN into a full-fledged media company.
Adv: How and when did MarketsWiki originate? Was it a natural outgrowth of the John Lothian Newsletter?
JL: In 2007, former CTA Jon Matte, whose business I helped grow and later bought, asked me to hire him. I could not justify doing so based on the fledgling CTA business I had, so I looked at my media side. In 2007, there was a turning point in the world of journalism. Many mainstream media companies were bankrupt, both financially and strategically. Jimmy Wales, the founder of Wikipedia, announced he was giving away the software powering Wikipedia for free. He thought it was so important to civilization for the creation of knowledge bases, collaboration and sharing. I said "sold" and came up with the name MarketsWiki. I was already successful with the John Lothian Newsletter and the Environmental Markets Newsletter launched in 2006, so I asked industry players if they would support this endeavor and they agreed. I hired Jon Matte and we began work August 1, 2007.
Adv: We know MarketsWiki recently achieved a significant milestone of 100 million page views. Congratulations! Did you expect this type of success when you first launched the site?
JL: We were very excited when we had 1 million views in the first year. The second year we had over 2 million views. As MarketsWiki grows, so does the audience. According to Google Analytics, people from over 200 countries visit it. I never had any expectations on how fast or big it would grow. We are still at the beginning of figuring out how to leverage it and make it even more attractive.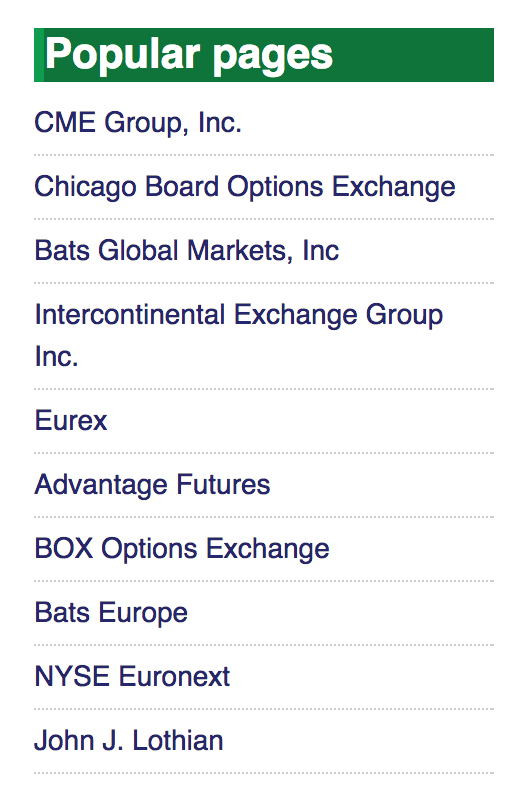 Adv: How do you monitor content to ensure accuracy?
JL: Every day members of the John Lothian News team work on MarketsWiki to update pages related to stories in the news. We also work with sponsors to keep their pages fresh and up to date. Anyone with a paid subscription to the John Lothian Newsletter is given editing rights, so we have many readers editing. The vast majority of the work is done by the JLN team, working with original content they create in stories and videos and incorporating it into MarketsWiki. Visitors may also suggest updates by clicking a link on the site. It is a never-ending job.
Adv: Advantage shares your commitment to education and promoting the futures industry. Please tell us about the MarketsWiki Education World of Opportunity Series.
JL: Five years ago, a young man who worked for us the summer before was looking for another internship. I asked around and found firms hired college juniors as summer interns, not freshman. Also, my son Tim was working for me that summer and took a week off for a music festival. I asked him what the big deal was about seeing the lead act, Paul McCartney. He said, "Dad, he was an original Beatle. He was there when Rock 'n Roll began. For me to see him today is really cool." I thought kids should hear from the rock stars who helped build our industry and the markets into what they are today, so we created the MarketsWiki Education World of Opportunity program. I borrowed the TED Talk format and invited some industry rock stars and others. It was a great first year.
The CME Group agreed to help bring the program to London the next year. We have been back to London two more times, in New York three times and in Stockholm for the first time earlier this year. The CME Group and other sponsors have been great in helping support this program. We could not have done it without them.
We video record each of the presentations and host them on MarketsWikiEducation.com, as well as reporting on them on JohnLothianNews.com and integrating them into pages on MarketsWiki.com.
Adv: How large is your subscriber base? How great is your reach?
JL: There are just over 6,000 email addresses subscribed to the John Lothian Newsletter; however, there are many lists among them. We figure we have about 35,000 readers. I have 8,400+ followers on Twitter and one of the most highly ranked financial news feeds around. We also share stories on LinkedIn, where I have over 4,000 connections. We post on Facebook and Google+, too. We try to use a multiple time frame, multiple media and platform approach to distributing the content of John Lothian News.
Adv: What's next for John J. Lothian & Company?
JL: In December 2016 I stepped down as CEO of John J. Lothian & Company, Inc., and became Executive Chairman. My longtime collaborator and Editor-in-Chief Jim Kharouf became CEO. We want to continue to develop the company, try new things and be innovative in the way we create and deliver content. We want to expand our education offerings and will soon announce a major video education project. We want to expand our reach in the intern area and create an event to run during the FIA Expo to help the industry attract new talent. We also want to build more collaboratively with other industry players and media firms. We hope to continue to grow as a company and individually as employees of the firm. If we do, the company will continue to be relevant and successful.
Adv: From your unique perspective, what is the future of the futures industry?
JL: Futures trading will continue to become more main stream. I am bullish on the futures industry. It has a DNA of innovation and problem solving and gave us better risk management tools that made the world a better place. The challenge is finding new ways to attract people to the markets. Without the dynamic trading floors of the past, we must find new ways to attract and educate customers and future industry professionals.
Competition is key for the futures industry, whether it is with other exchanges or asset classes. There is a lot of risk in the world, and the futures industry helps people manage risk through the development of liquid markets that offer price discovery and risk transfer. It is a winning combination and I think it has a bright future.