CTS's T4 is a front-end software trading platform that offers the professional trader the ability to trade with ease, satisfaction, and total flexibility. Features of T4 include:
T4 Sniper, client side application that allows you to create, chart and trade custom spreads.
Options Pro, Advanced Option capabilities with trading sheets, analyzer, heat map, create UDS, RFQ and more.
Order templates, create and save Multi Exit OCO and Standard Batch orders.
Spread Matrix, display multiple months of a given contract with different views such as Calendar spreads, Butterflies and Condor strategies.
Order Counts, total number of orders that make up the volume at any given price.
Market Mode Countdown, display in seconds how long before the next market mode change, i.e. the number of seconds before preopen or close.
Charts (with over 50 studies and indicators), Market Profile and News.
An expansive list of order types including Market Orders, Limits, Stops, Stop-Limits, Trailing Stops, MITs, GTCs, OCOs, MOCs and Auto OCOs. Plus Activation orders.
T4 API – Create your own customized functionality or your own black box system using T4's available open API. No attachment or reoccurring monthly fees for API functionality. Visit http://www.ctsfutures.com/t4_api.aspx for more information.
T4Mobile for Android, real time quotes, contract windows, charts, order book and quote boards. Download from Google Play or Amazon App Store.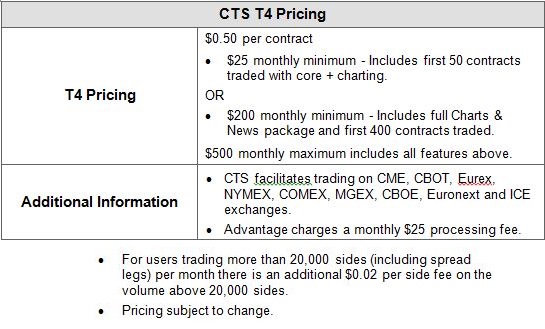 Click here to experience T4 FREE for 2 weeks.
For a detailed listing of the prices associated with Cunningham Trading Systems (CTS) T4, please contact an Advantage Futures sales representative with any questions at 312.800.7000, or email us at ContactUs@advantagefutures.com.